Discussion Starter
·
#1
·
Two switches...two pop-up headlights.....any angle up or down....lights on or off
***********************DISCLAIMER***************** ***********
NEITHER I NOR THIS SITE TAKES ANY RESPONSIBILITY FOR ANY DAMAGE THIS MOD MIGHT CAUSE TO YOU OR YOUR VEHICLE.
THIS SYSTEM CAN BE REMOVED AND YOUR CAR RETURNED BACK TO STOCK SIMPLY BE REATTACHING THE WIRES YOU CUT IN STEP 2.
THIS MOD SHOULD BE COMPATIBLE WITH ANY 4TH AND 5TH GENERATION CELICA....ALTHOUGH IT HAS NOT BEEN TESTED ON A 5TH GEN MY SCHEMATIC SHOWS IDENTICAL WIRE COLORS FOR BOTH.
edit: apparently now it has been tested and works on a 5th gen as well. See below for details
*****************DISCLAIMER*********************** ************
Now that that is out of the way....let's get started
I do not take credit for making this post, i am just relaying the information to you guys and adding pictures of what i did!!
You don't even need to fully understand how this works to do it...as long as you can follow directions and know a thing or two about soldering or crimping....and basic electrical you should be fine
This system is comprised of 3 components:
a main system switch (to turn the "system" on)
two on-off-on rocker switches (for controlling the up/down movement of your headlights)
two DPDT relays (the brains)
tools needed:
drill
snips
multimeter (optional if you follow direction very closely)
soldering iron or crimpers with connectors ( I recommend soldering everything though)
Depeding on where you mount your switches you may need other tools to mount them as well
Supplies needed
1 – on-off switch
just a standard on-off switch. This will serve as your main system switch. Herein called the system switch
$1-$5
2 – on-off-on momentary switches
a rocker switch that returns to the off position when you let go of it. Herein will be called the rocker switch
$2-$5 each
2 – 12V 10A DPDT relays ( radio shack, part number 275-21
12 volts, 10 Amps, DPDT (double pole double throw). These are big relays and will have at least 8 pins…some might even come with 10. I ordered mine from a local electronics supply store…you might be able to order them from places like radio shack as well. These might be hard to come by depending on how resourceful you are.
$5-$15 each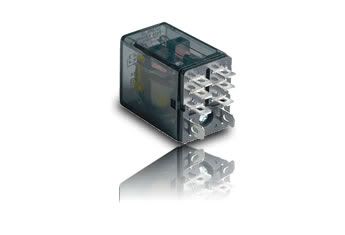 wire….lots. I suggest 12 or 14 gauge bonded wire or speaker wire…and a few lengths of standard 12 or 14 gauge in black and red
And that should be it…maybe a crimp on ground lug or two and some female spade connectors for your switches,
Now to get started.
1.
Find a good location for your relays. Every wire you run from this point forward should run on the same path to your relay location and leave 4 or 5 inches hanging over just because.
right in front of my other relays will be suitable
2.
Locate the wiring harnesses for both headlight motors. It should be right beside the manual headlight motor control thing. Disconnect the plugs. Now we will look at the right/passenger side headlight motor. Since you have disconnected the plug you will have a 5 wire harness going to the headlight motor (motor side) and one going to the vehicle (vehicle side). Ignore the motor side and look at the vehicle side.
there are 2 green/yellow wires on the passenger side, cut the bigger one, on the drives side there is only one green/yellow
You will have to peel back some tape and loom to expose the wires behind the vehicle side plug. Now locate the green/yellow wire and the green/white wire and snip them…leaving a couple inches to play with (Don't snip it directly next to the plug or to the other end or they will be very hard to work with). Now solder or connect 4 wires to the 4 exposed ends you have and run them all to your relay location (and then some).
You will want to label them at the relay location as well (since you cut them you will have "vehicle side" wires and "plug side" wires. So label your ends "green/yellow vehicle side right" "green/yellow plug side right" "green/white vehicle side right" and "green/white plug side right"….or just abbreviate them if you think you can keep track)
Note: I used bonded lamp cord or speaker wire will be fine as well…it saves running a whole bunch of separate wires. 12 or 14 gauge is your best bet…..16 will work if it is all you have.
Now move over to the left/driver side and do the exact same thing…same wire colors and everything. Just be sure to label them "left side" when you get to the relay. You should now have 8 wires hangin out beside your relay location…**all labeled**(unlike my picture....do as I say not as I do)
Note: You could mount each relay right beside its respective headlight motor….hence eliminating the need to extend any of these 8 wires. But I tried that at first and it looked rather ugly so I opted to run everything to another location to clean up the engine bay a bit.
3.
Run a ground wire to your relay location. You will need one for each relay so either run two wires or run one and then splice it into two at the relays…either way is just fine.
4.
Find a suitable location for your switches….its nice to have the two on-off-on switches beside each other…..and then you can put the main system switch anywhere really, but I put it right in front so everything is bundled up together.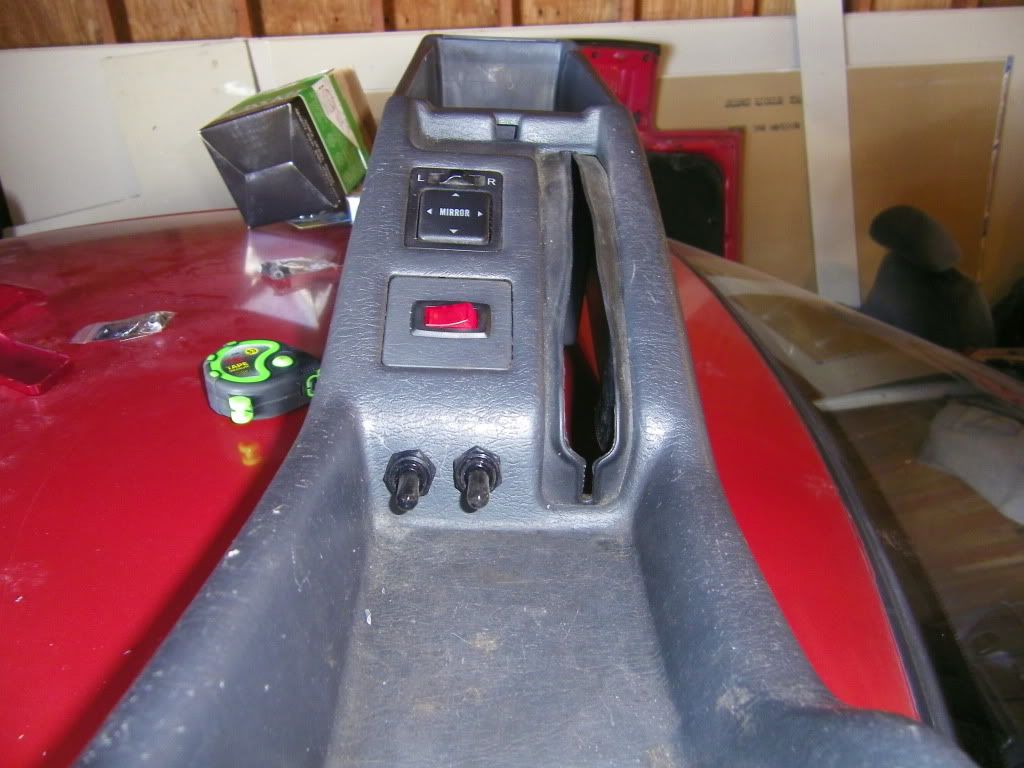 5.
Draw power from a fused ignition source ( I spliced off the power for the cigar lighter) and run it through your system switch and to your relay location…and of course label it. You will need to splice this one into two at the relays as well
Note: I used an ignition source so that the system will automatically shut off and my headlights will react normally when I turn the car off. I don't recommend running this system hot
6.
Run 4 more wires…or two sets of speaker wires from your rocker switch location to your relay location. **label them at both ends** ("left up" "left down" "right up" "right down")
7.
Run a ground….or two to your rocker switch location (you will need one for each switch)
Now connect the wires to your rocker switches like so.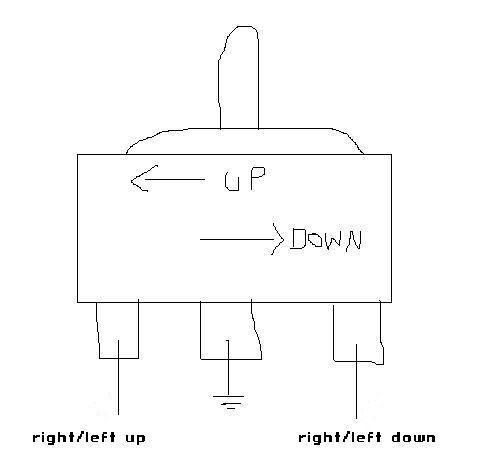 Once all your wires are connected you can install all 3 switches wherever you want.
8.
Now stop and count the wires. You should have 16 wires hanging out at your relay location (or 14 if you only ran 1 ground and one power instead of two)
8 wires from the front of the car
4 from the rocker switches
1 or 2 from your system switch
1 or 2 from your ground
9.
Here comes the fun part. If you labeled everything like I told you to this will go very simple….if not then prepare to get your continuity tester/multimeter out and start tracing and labeling.
Now designate and label your right and left relays. We will start by wiring the right one or the passenger side headlight
************************************************** ****
note that the radio shack relay is not the same as the one shown, you must look at the diagram and change wires around to match your relay!!!

Your relay will have the following diagram. **Check to see that the pin numbers on your diagram are the same as the pin numbers on my diagram**
if they aren't the same then draw up a diagram and make it the same this part will be a little difficult but doable with some thought process.
Basically here is how these work.
Pin 1 is connected to 4 and pin 8 is connected to 5 when the relay is normal or at rest.
When 2 is powered and 7 is grounded (or vice versa) the toggles switch and pin 1 connects to 3 and pin 8 connects to 5. Its quite basic really.
We cut the wire controlling the headlight down (for example) and connect one end to 1 and the other end to 4 so that when the relay is at rest the factory wires are still attached and everything works normally (times the example by 4 of course because we snip 4 wires)
As soon as you activate the relays (by the single switch) the factory wiring is severed and the input signal is now coming from your switches rather than from the factory module.
************************************************** ***
Now connect the following pins to the following wires…again I prefer to solder
Remember this is the right relay for the right headlight
1 Green/white plug side right
2 Ground
3 Right up (from rocker)
4 Green/white vehicle side right
5 Green/yellow vehicle side right
6 Right down (from rocker)
7 Red/power (from system switch)
8 Green/yellow plug side right
Now the left relay for the left headlight is exactly the same…except the left side
1 Green/white plug side left
2 Ground
3 Left up (from rocker)
4 Green/white vehicle side left
5 Green/yellow vehicle side left
6 Left down (from rocker)
7 Red/power (from system switch)
8 Green/yellow plug side left
I soldered lengths of wire to my relays on the bench and then spliced it into the car later....it was easier
10.
Once everything is connected you can mount your relays...and loom and zap strap the wires to make it all nice and clean
10.
Now get in your car and turn the ignition to "on"
Flick your system switch and listen for the relays to click…or get someone else to do it while you listen or feel them
Play with your toggle switches and see what happens.
When your system switch is on the headlight switch on your steering column has no effect on the headlight motors. The only control you have is the rocker switches….push up to move the lights up…push down to move them down…..any time you let go of the rocker your headlight will stop moving and stay there (provided you got a momentary swicth and it automatically clicks back to the neutral position).
Now when you turn the switch off your headlight motors operate normally….with the headlight switch on your steering column. Subsequently when you turn your key off it does the same thing.
Cool huh